Signature Collection
Solid Chocolate Break-up Bar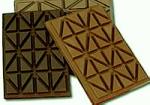 Solid Chocolate Break-up Bar
$26.95

Item #:

MC-BRK-01
Description

Indulge in pure chocolate with Meyers Chocolates Break-Up Bars. The perfect treat - just break off a bite to sooth your sweet tooth! Available in our premium milk or dark chocolate.
Shipping Specifications
Solid Chocolate Break-up Bar
All of our Cocktail Collection is now available to purchase for the holiday season while supplies last. Order early!